About Push72o Hand Converter
Push72o Hand Converter is a unique tool designed for poker players. It retrieves all hands in play from poker sites including ACR, 888, PartyPoker, Winamax, iPoker, and PokerStars. We are the only software that supports KOs on PokerStars. With a simple double-click, you can convert your poker hands. Currently, our software is free to use and runs exclusively on Windows.
Installation and Configuration
After installation, you need to configure the folders where the poker hands are located and log in with the account created here: https://www.push72o.com/manager/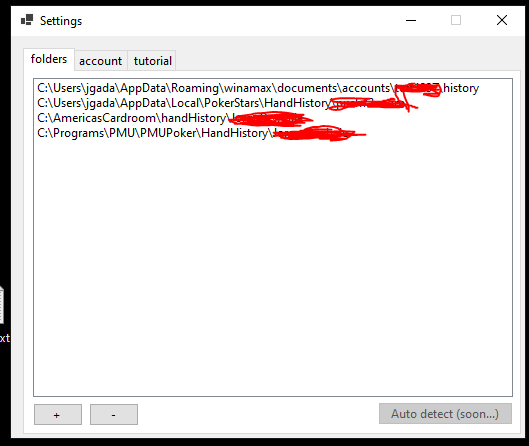 Updates
Our software updates automatically, ensuring you always have the latest features and improvements. Stay tuned for exciting new updates coming soon!
Download
Ready to try Push72o Hand Converter? Click the button below to download now.
Testimonials
"I've been a regular user of the P72o software for about ten days now. This new tool has simply allowed me to save a huge amount of time during my multitabling. I've seen the progress of regular updates (without disturbing the players' practice). The replayer that comes with the HH conversion is very acceptable and has ended up dethroning that of the famous Winamax room because of its speed of conversion. The software works on all rooms with a common replayer. This allows you to share a maximum of hands from so-called 'third world' rooms. In addition, the sorting tool on the website allows you to have categories to refine your off-table work. I also use the free tool that allows you to track your bankroll on all rooms and in all currencies. It works well. Finally, @Hack is very responsive to bugs, and open to discussion for any new idea or improvement. I can only advise you to try the new Push72o software."